Hi everyone,
Whether you're looking for products to help you relax or products to clear your skin, we have you covered. Springtime usually means we wear less makeup and we're showing more skin. That combined with stress can wreak havoc on our beauty. Don't fret, we have some amazing new products we've reviewed and they are priced extremely reasonably!
1 – SheaMoisture Community Commerce Zanzibar Marine Complex Bath, Body & Massage Oil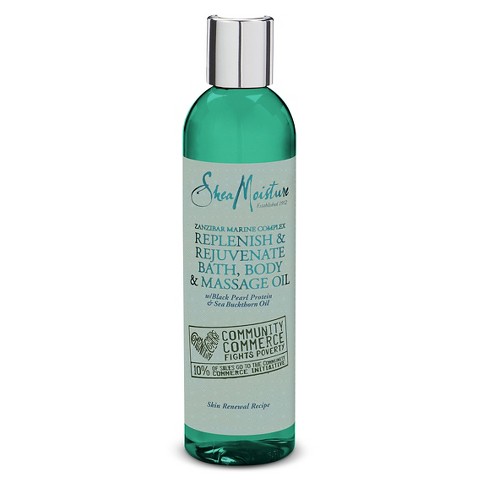 This product is seriously phenomenal. It's $20 for an 8oz bottle and the oil poured into a hot bath helps to replenish and lock in moisture giving skin a healthy, youthful glow! This product has black pearl proteins and buckthorn oil and it smells super fresh. Imaging walking into a spa…it's that smell!
2- NIP + FAB Exfoliate Glycolic Fix Night Pads Extreme
Okay, this little container of pads is well worth the $15 price tag. This may be my new favorite product and I'm not sure how I ever lived with out them! Stress kills our skin and can cause us to age prematurely. I'm determined to fight that and I think this product will be key. It smells so clean and it really helps tighten the pores. Glycolic acid helps clear, refresh and tighten. This is definitely one to add to your product regime. Just use the pads in the morning and night after you wash your face.
3 – Miss Spa Anti-Aging Overnight Gel Masque
This overnight mask gives you the best of both worlds because it's cooling as it dries and it helps tighten fine lines and wrinkles overnight. The best part is this all happens while you're sleeping. They say it actually inhibits muscle contractions and slows cellular aging. Crazy! I can't tell after one treatment, but for $7 a pack, that's way cheaper than a facial!
All you need is the bath bomb and the products I mentioned above and you really do have the spa experience at home. This bath bomb is crazy you guys. I'm new to the 'lush' world and it's so so amazing. This bath bomb fizzles and crackes and ends with a color explosion. PLUS it smells like sherbet and lemon! It's $7 and totally worth every penny just for the fun 'spa-like experience' at home!
Go shopping and create your own spa like experience!